Kids' Christmas bedding sets come in all shapes and sizes.
Single size and double size (or king if they're lucky!)
From the traditional Father Christmas, snowmen, reindeer, trees, stags, gingerbread men and penguins.
To the novelty bedding featuring Disney characters, Peppa Pig, The Snowman, Grinch, Nightmare Before Christmas, Buddy The Elf and even Christmas dinosaurs!
Then everything else that you find on both kids' and adult christmas bedding – advent calendars, snowflakes, wreaths and woodland snow scenes.
These are our favourite kids Christmas bedding retailers with a wide selections of kids' Christmas bedding in single and double sizes.
Duvet covers and matching pillow cases for youngsters from toddlers to teenagers.
Use the red buttons to see the complete ranges for each retailer.
Children's Rooms Kids' Christmas Bedding Sets

Christmas bedding for kids' and adults
Children's Rooms stock a wide selection of kids Christmas bedding with matching bedding sets.
Despite the brand name, there's also plenty of adult Christmas bedding with king sizes and super king.
Christmas designs – White Christmas, Stags, Elf Workshop, Gingerbread, Snowmen, Santa, Angels, Dinosaurs, Reindeer, Unicorns, Jungle, Advent, Peppa Pig, The Snowman and Buddy The Elf.
Colours – black, white, gold, silver, blue, green, pink, cream, grey and red.
Some of the kids Christmas bedding sets are reversible like the Simply Christmas Bedding set.
Quickly filter by size of bed – toddler, single, double, king and super king to shop.
Bedding is machine washable and can be tumble dried.
Your order is dispatched within 24 hours with next working day delivery available.
There's also 60 days return policy too, just in-case.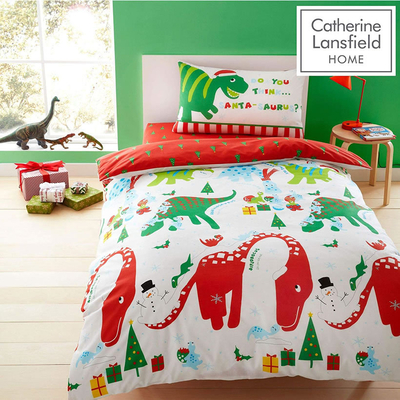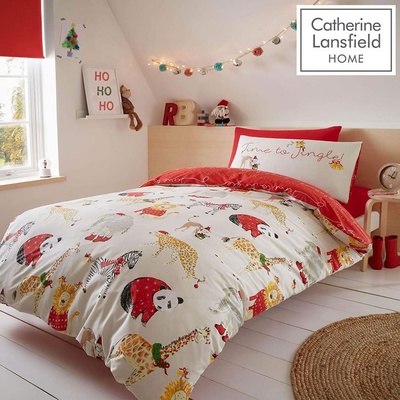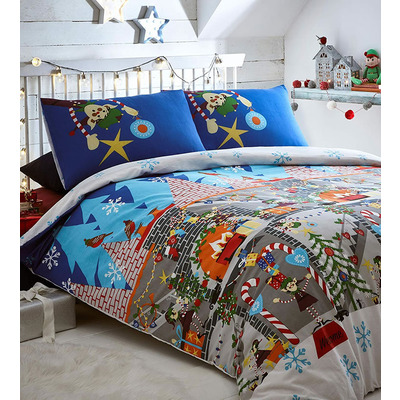 Shop – Children's Rooms Christmas Bedding
Amazon.co.uk Kids' Christmas Bedding Sets
Christmas Bedding single, double, king and super king
Although Amazon.co.uk have a 'Children's Christmas Bedding' subcategory within
'Christmas Bedding'
, it's a bit of a strange one to navigate.
Some items aren't bedding at all and there's more choice for kids on the main category.
At the time of writing, there are nearly 800 results showing for 'Christmas Bedding' on Amazon.co.uk.
There are Harry Potter Christmas Bedding Sets, Nightmare Before Christmas, Peppa Pig, Elf Santa and lots more.
Filter by price, colour – grey
is a popular search, or just browse through the pages, adding to your cart as you go along.
Most product titles list the duvet size but, for any you like, click into the product pages to see all size options.
Many kids Christmas bedding sets come with Prime free next day delivery if you've got an Amazon Prime account.
A godsend around Christmas when Amazon are mega busy.
Top 10 Kids' Christmas Bedding Sets – By Reviews / Review Scores
Insta Selfie Elfie Kids' Christmas Bedding
Ice Skating Sausage Dogs Kids' Christmas Bedding
Santa & Friends Nativity Kids' Christmas Bedding
Sparkly Glitter Snowman Kids' Christmas Bedding
Nightmare Before Christmas Skull Kids' Christmas Bedding
Nightmare Before Christmas Skull (alt design) Kids' Christmas Bedding
Magic Unicorn, Fairy & Castle Kids' Christmas Bedding
Dinosaur Glow In The Dark Kids' Christmas Bedding
Rudolph and Presents Kids' Christmas Bedding
Jolly Father Christmas and Snowmen Kids' Christmas Bedding
Reversible Christmas bedding
Amazon.co.uk stock plenty of reversible kids' Christmas duvet covers such as the Happy Linen Co patchwork red reversible bedding set with more than 280 reviews.
Brushed cotton Christmas bedding
If you're looking for brushed cotton Christmas bedding
you're in luck.
Amazon have plenty of brushed cotton Christmas bedding sets in single, double, king and super king sizes.
The best-seller in the brushed cotton category is this Scandi set.
Shop – Amazon.co.uk Christmas Bedding
Studio.co.uk Kids' Christmas Bedding Sets
Personalised Christmas bedding sets – FREE
Studio is a big marketplace website with more than 50 Christmas bedding sets.
They stock a lot of Christmas products including throws and cushions.
There's a good selection of single kids Christmas bedding sets with double and king size also on sale.
They also sell personalised Christmas bedding to add an extra special touch to your duvet and pillow design.
Your child / children will love it.
Prices start at just £7.99 with the more premium sets £19.99.
Here are three of our top picks in single size.
Shop – Studio Christmas Bedding
Terry's Fabrics Kids' Christmas Bedding Sets
Single, Double, King and Super King Christmas Bedding
Shop in Terry's Fabrics Christmas bedding range for a super selection of sets in various sizes.
Terry's Fabrics review score is 4.8/5 on Feefo.
They offer Klarna payments to spread the cost over 3 months, and have free delivery over £100 spend.
To search by bed size, use the first filter where it says filter – results. You can select your size from there.
One of the top sellers is this reversible Garland Reindeer Brushed Cotton Christmas bedding set in single size for children's beds.
Terry's Fabrics also sell Christmas cushions, Christmas curtain fabric, Christmas throws and Christmas tableware.
You'd associate Terry with Terry's Chocolate Orange but we like Terry's Fabrics just as much.
Their Christmas shop has over 130 items so explore everything they have to offer in preparation for the festive season.
Shop – Terry's Fabrics Christmas Bedding
JD Williams Kids' Christmas Bedding Sets
30+ single size Christmas duvet cover sets
Most of JD Williams single and double sets have designs and patterns that are more 'adult' than specifically for kids.
But they come in sizes suitable for kids' beds so if you want a duvet cover that's a bit more mature in design, take a look.
That's not to say they don't stock kids' Christmas bedding because they do have some.
Minecraft Christmas bedding sets, Peppa Pig Christmas bedding sets and a wonderful red Elf & Santa set are our top 3.
Shop – JD Williams Christmas Bedding
Not On The High Street Kids' Christmas Bedding
Personalised Pillowcases
Not On The High Street don't sell kids' Christmas bedding sets but they do have some individual pieces you might want to consider buying this year.
There's an adorable Elf on the Shelf pillowcase, a personalised Merry Christmas pillowcase and a Christmas dachshund cushion that would look good on any kids' bed.
Links in this article are affiliate links. We work in partnership with the retailers featured. If you click on a link, we may earn a small commission.